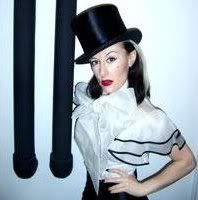 The Amazing Alex Box will be joining us here at Illamasqua In Manchester's Trafford centre (Selfridges) on the 3rd of October to do an exclusive Masterclass, And to anyone who didn't get to read Mizzworthy's blog about the London masterclass this is an event not to be missed!
Alex will be doing demonstrations and will also be joined by Adam Sidwell from the london counter who some of you may have met last time he came to Manchester (for anyone who's not familiar with Adam, he's behind the amazing makeup of the Pussycat Dolls, Fergie, Rianna to name a few)
There will be 2 different master classes the first 12-2pm titled Night time divas the 2nd 3-5pm titled Dare to be different
Places are limited at this event and tickets for each class are £20 redeamable against purchases from Illamasqua.
To book simply pop into the counter, call us on 01616291187 (please mention that you saw this post) or drop me an email with your name and number to
skatanic_babe@hotmail.com
and I'll personally call you.
Love Krystle. xx